U.S. Army Is Ready for Disruptive and Cultural Digital Transformation Change
A portfolio-based mindset is required to modernize and align legions of legacy apps to today's mission demands and the way users work with apps and consume data

11-01-2021

Jennifer Lewis

DEFENSE
"Going digital is a mindset; it's cultural change…it's about how we fundamentally change how we operate as an Army." The Army Digital Transformation Strategy, newly published on Oct. 12, 2021, includes this quote by Army Chief Information Officer Dr. Raj Iyer, and I cannot agree more. The Department of Defense needs disruptive change now in order to achieve digital overmatch of our nation's adversaries.
The Army has been modernizing its mission systems for decades, whether it was updating from Fortran to avoid Y2K, implementing modular open systems approaches, or utilizing DevSecOps and Agile processes. However, its system-by-system modernization leads to highly perforated, distributed, and fractured technology environments. The Army is dealing with the effects of this approach now, including poor data integration across disparate systems and low-quality data within data sources that hamper Army decision-makers.
Despite the acknowledged cultural changes that are needed, the technology to meet Dr. Iyer's vision exists now. Highly scalable cloud services and data management technology make it possible for the Army to reap near-term functionality, security, and financial gains through a portfolio-driven approach that dramatically improves the velocity and scale at which the armed force migrates its mission systems to the cloud.
In fact, with today's technology, migrating mission systems individually misses the opportunity to realign them with mission goals and improve mission effectiveness.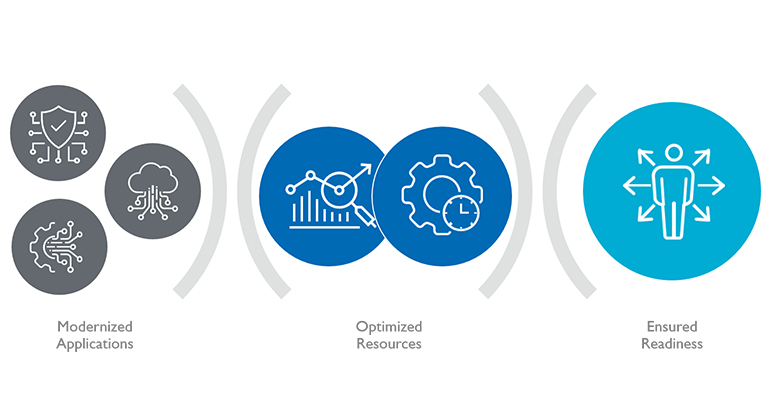 SAIC's experience in all aspects of application modernization, or AppMod, runs deep. As demonstrated in our ongoing support for Cloud One, our processes begin with the portfolio mindset that allows efficient and cohesive convergence of legacy applications. This convergence not only eliminates redundant and unused functionality, decreasing maintenance and sustainment costs, but, more important, it unleashes the possibilities to improve user experience with easy-to-use mobile interfaces that make sense to digital natives, who are accustomed to technology that "just works."
An overall system that is less complex under the hood and in its user experience optimizes resources in ways we didn't realize we needed to, from eliminating redundant administrative steps to providing intuitive insights about readiness and operations.
The benefits of this convergence transcend technical implementation, fundamentally changing the day-to-day life of the warfighter – the very definition of disruptive. A digitally transformed Army is agile, flexible, and more effective because its leaders have, at the tips of their fingers, the right data, information, and knowledge to assess changing situations and new options and quickly make decisions. This level of adaptability allows the Army to meet the demands of an uncertain future and to achieve and maintain warfighting superiority in the all-domain information war.
Learn more about SAIC's AppMod technologies and contact me at jennifer.e.lewis@saic.com.