12-19-2019
Blockchain, vehicle integration, and cyber solutions take center stage
The U.S. Army wants to modernize its forces, and it looks to industry for answers. Those answers feature emerging technologies, and SAIC is working closely with the Army on solutions to improve readiness, dovetailing smoothly with the capabilities that our Defense Solutions Group and our Solutions and Technology Group are bringing to fruition: blockchain, vehicle integration, and cyber. These technologies can help solve from supply chain challenges to situational awareness requirements on the battlefield and in cyberspace. 
The Army requires a steady stream of supplies and equipment to get jobs done. Whether it's replacement parts, tires, or oil for machinery, they depend on prompt deliveries to carry out their missions. So, when an important item gets lost in transport, it can be tough to track what went wrong between point A and point B.
These proof of delivery (POD) problems can involve significant time and cost to resolve. In fact, some industry estimates put the cost of resolving POD problems at 10% or more of the total cost of operating a supply chain, said Jim Tyson, an SAIC expert in blockchain.
To help our military customers who rely on frictionless supply chains, SAIC has developed a solution that uses blockchain technology. Blockchain is probably best known to the general public as the technology that fuels Bitcoin, a form of digital money. It is a shared, distributed ledger--a record of transactions--that is fully encrypted.
Our solution uses open-source, permissioned blockchain platforms and Internet of Things sensor integration to improve the security and efficiency of supply chain operations. It allows the user to track and trace deliveries and detect counterfeit goods, while also providing a single, authoritative record that is transparent and tamper-proof.
"Anything we can do to improve materiel readiness is of value," Tyson said. "Enhancing POD tracking not only enables efficiency of the end-to-end delivery pipeline, but it also generates detailed and high-quality data that be analyzed to facilitate planning and identify future efficiencies."
SAIC's solution is capable of being deployed into production. Over the next several months, we will continue to develop and integrate it with the company's Integrated Logistics Toolkit, an end-to-end supply chain management platform.
Integrating emerging technology into Army vehicles
As part of its modernization initiative, the Army wants to integrate emerging technologies into legacy and next-generation ground vehicles.
SAIC supports the Army's vehicle integration efforts. We outfitted a Polaris MRZR with a counter unmanned aircraft system from Citadel Defense, and we are working on a Polaris DAGOR vehicle that is in competition for the Army's Infantry Squad Vehicle (ISV) program. The vehicles reflect the work our platform and systems integrators have carried out on two Army initiatives.
We are also the lead project integrator for the Army's Next Generation Combat Vehicle program. In this role, we help the Army integrate promising technologies that could lead to informed requirements for design of future fighting vehicles and battle tanks.
"We show our ability to partner with another company that brings high credibility to the space and to help mature the design via digital engineering to meet customer requirements," said Wesley Sparks, SAIC project manager for the Army's Program Executive Office Ground Combat Systems and Program Executive Office Combat Support and Combat Services Support. "We also demonstrate that the Army relies on us to evaluate technology readiness levels and to push the design forward, with a true understanding of risk and delivering a capable platform."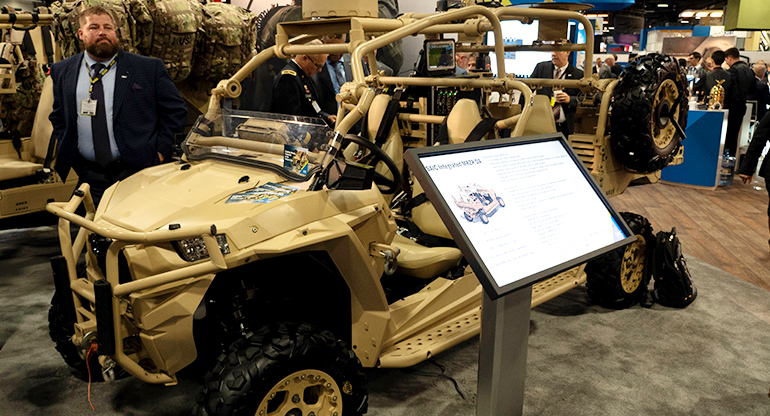 Cyber solution enhances decision-making
The cyber threat landscape changes rapidly--meaning the Army must address vulnerabilities in the cyber domain across multiple levels of warfare. Those vulnerabilities range from nation states attacking battlefield systems to ubiquitous social media platforms perpetuating anti-American messaging.
Over the past two years, the SAIC team has developed a process that uses a customer's existing cybersecurity tools to improve cyber situational awareness. We are using our expertise to help the Army more effectively view its cyberterrain across air, land, sea, and cyber; analyze and distill important information; and respond more quickly to threats.
For example, we can monitor and display the amount of open-source data that is floating around in an area, such as flight feeds from nearby airports and information carried across Bluetooth and Wi-Fi connections--even the number of ports broadcasting building automation controls.
SAIC demonstrates technologies at recent AUSA
We presented these solutions to high-level Army officers, congressional staffers, and representatives from industry at the Association of the United States Army's (AUSA) Annual Meeting, a premier industry event, last fall.   
"AUSA is very important for SAIC, as it is the one time each year where it is completely feasible to personally meet with all of the people and decision-makers involved in taking a program from concept to sustainment," Sparks said.
"They were mostly interested in the big-picture questions," Tyson said, of blockchain technology. "They wanted us to explain what the technology was, why they should use it, the benefits, and what it cost."
"Visitors to our booth were both shocked and impressed," said Aidan Neighbor, an SAIC cybersecurity analyst, of our cyber monitoring capability. "This data is sitting out there, and it's surprising for some people when they realize how much is publicly available."
We also shared two sentiment analyses we had conducted--one on the Army and another on SAIC. Sentiment analyses reveal positive, negative, or neutral attitudes based on news feeds, social media, or other online sources.
"The challenge for government and commercial organizations is they have the tools, but there's a glut of data out there and it's not clear how to make data actionable," Neighbor said. "As system integrators, we can show them how to use their existing tools effectively so they can execute fast, data-informed decisions."