Fleet synthetic training forges the U.S. Navy into a team
The U.S. Navy and partner nations protect more than 70 percent of the Earth's surface with a limited number of ships. The logistics of getting multiple ships to the same place at the same time to conduct live exercises can be difficult and expensive. 
Fleet Synthetic Training (FST) is a virtual training environment that enables sailors to train together without the limitations of at-sea training. FST ensures staff processes and best practices become second nature prior to more advanced live training at sea.  Compared with same-scale live exercises at sea, this training saves the Navy money and resources.
FST enables multiple users across the world to operate in integrated, joint, and coalition environments to accomplish multiple objectives, including:
Preparing strike groups to execute maritime operations
Establishing battle rhythm/planning cycles
Exercising watch teams in a dynamic, robust, and tactical environment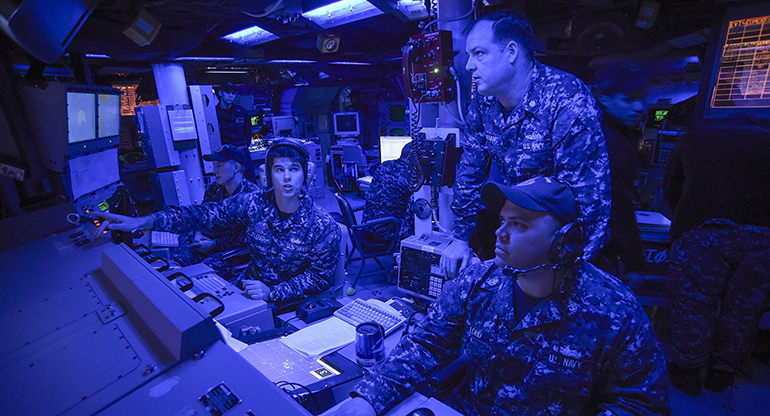 Benefits to the fleet
Fleet Synthetic Training helps positively reinforce tactical planning and execution throughout the pre-deployment training cycle. The ability to model nearly any scenario, to reset or reconfigure it on the fly, and the low cost of running these exercises characterizes the training as an indispensable tool for the Navy. Some of these benefits include:
Capability to accurately replicate any level/type of threat scenario.
Global network capability allows training of widely dispersed forces.
Significant numbers of Navy Tactical Tasks (NTAs) can be completed by crews and assessed by evaluators as units progress towards certification.
Savings per FST event are significant compared to same-scale live field exercises.
Scarce resources focus on identified deficiencies.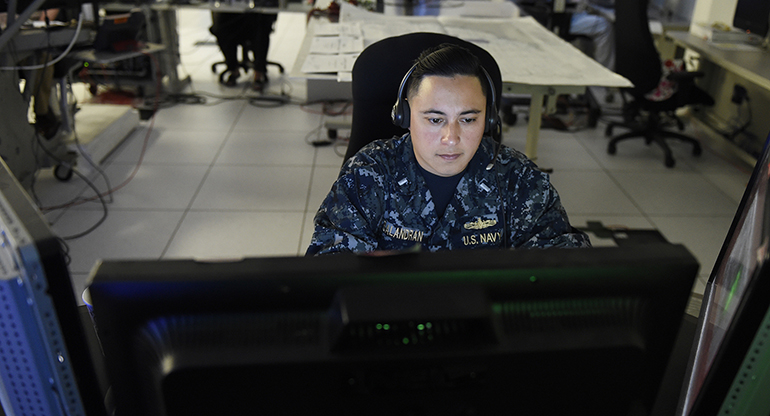 Augmenting live exercises 
Fleet Synthetic Training does not replace live exercises, but augments them. The additional simulation it provides helps to forge participating strike groups into teams through experience and cooperation. We run the program in a basic-intermediate-advanced timeline, referred to as crawl-walk-run. 
During the crawl phase, we test networks and assess vulnerabilities. For the walk phase, we initiate simulations involving multiple ships organized into strike groups. Then during the run phase, joint units—the Army, Air Force, and Marine Corps, and partner nations—can be brought on board and more difficult scenarios can be simulated. By the zenith of training, all the knowledge acquired in previous stages comes into play for a holistic training experience. 
Photo courtesy of DVIDs. The appearance of U.S. Department of Defense (DoD) visual information does not imply or constitute DoD endorsement.