Ground Vehicles
Combat and tactical vehicles for a modern force
Our Approach
Reduce risk with commercial technology
We are modifying commercially available technologies and solutions to build and upgrade ground vehicles exclusively for our nation's armed forces. We're not limited by our own technology, unlike traditional combat vehicle providers, and our recipe for success has been unmatched for more than a decade.
We work to find the best available technology and solutions to support your timeline and readiness needs. Then, we rapidly upgrade and integrate platforms to offer the maximum intellectual property and technical data packages possible - saving you time and long-term sustainment costs.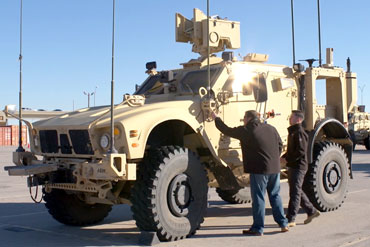 Capabilities
Systems Engineering

We use a wide variety of tools that help sustain and modernize your operations.

Prototyping

We build full-scale vehicle models, mock-ups, and pre-production units.

Testing

We conduct live, quality assurance testing ensuring our designs meet your requirements.

Supply Chain

We keep the parts, materials, and resources moving so your mission stays on track.

Platforms

We modify and upgrade combat and tactical vehicles protecting warfighters during combat.

Sustainment

Our solutions meet any need, from ordering parts to full end-to-end modifications.