05-16-2019
The National Geospatial-Intelligence Agency does lots of very cool things with geospatial data, but traditional intelligence community thinking kept its engineers at arm's length from commercial innovators. That changed when NGA set out to "work in the open," collaborating with commercial and academic sectors.
In 2017, when NGA began using the office and event spaces at T-REX, a St. Louis nonprofit technology incubator, startup companies began flocking there. At T-REX, NGA welcomed attendees to the Department of Defense Intelligence Information System Worldwide Conference and the NGA Tech Showcase West a few months afterward.
NGA is working on a 97-acre campus in St. Louis called Next NGA West, or N2W. T-REX will maintain a close relationship with N2W. The collective vision is to make St. Louis the geospatial tech capital of the world.
With NGA collaborating with diverse thinkers in an open-concept environment, SAIC recognized an opportunity to be a better partner and gain access to some of St. Louis' most vibrant startup companies. Our support to NGA includes managing its Innovative GEOINT Application Provider Program (IGAPP) to add commercially developed mobile apps to the GEOINT App Store for IC and DOD users. A plan was laid out to move our St. Louis offices to T-REX.
Our Innovation Factory concept
Our presence at T-REX is one of several initiatives that demonstrate SAIC's commitment to innovation and emerging technologies. We also have established footholds in:
Austin, Texas, where we have an office at the Capital Factory, an accelerator in close proximity to Army Futures Command.
Colorado Springs, where we participate in Catalyst Campus, where small business, workforce training, start-ups, and venture capital intersect with the aerospace and defense industry.
They form the innovation ecosystem in our SAIC Innovation Factory, which will leverage the capabilities of emerging tech companies at these accelerators in advanced solutions development for our government customers.   
Taking big bites
T-REX takes its name from its beginnings as the Technology Entrepreneur Center at the Old Railway Exchange, and the offices open a whole new world of opportunity. The startup environment mixes things up and gets government and IC personnel to think about solutions differently, energizing brainstorming sessions and problem-solving. It's refreshing to see government personnel get outside of classified walls and into this type of collaborative setting.
SAIC joined the T-REX community in May 2018—the same month that NGA began increasing its presence at the center. We sit in the same building that the agency frequents as its primary location for offsite meetings and events. And as construction recently began on a geospatial innovation resource center, known as the Geosaurus, T-REX continues to realize NGA's vision of making St. Louis the globe's geospatial tech hub.
SAIC is taking full advantage of our T-REX location, as we host demos and give our customers sneak peeks of new applications on the GEOINT App Store, engage new talent, and attend customer events, as well as attend and host events for our neighbors.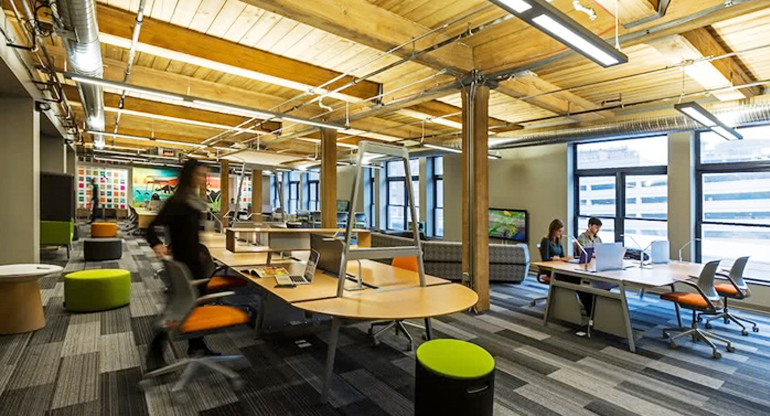 The dinosaur symbolism of NGA evolving from old-school thinking to become the king at T-REX is not lost here. Given the agency's activity at the center and new campus, we know that it will continue taking tyrannosaur-sized steps in transforming the area and St. Louis.
We're still fresh in our initial chapter here at T-REX, but we expect to have a long stay in support of our customer and the St. Louis geospatial technology community.
FURTHER READING:
SAIC Innovation Factory is a solutions incubator and accelerator
The power of partnerships for accelerated space-mission solutions